Arabic: Irshad Al-Ghawi illa Masalik Al-Hawi – by Sharaf Al-Din Al-Muqri
Irshad Al-Ghawi illa Masalik Al-Hawi – إرشاد الغاوي إلى مسالك الحاوي
Author: Sharaf Al-Din Abi Muhammad Ismail Ibn Al-Muqri
Language: Arabic
Binding: Hard Cover
الارشاد المسمى ارشاد الغاوي الى مسالك الحاوي
الفقه يمان والحكمة يمانية، شهادة سطرها التاريخ من سيد الأنام عليه الصلاة والسلام، لأهل اليمن الكرام،
وهذا الكتاب دليل على ذلك وهو لأحد أولئك الأعلام، الذين ملؤوا الدنيا وشغلوا الناس، إنه الإمام ابن المقري رحمه الله.
لقد حاز قصب السبق، وكانت له اليد الطولى في إبراز إبداع جديد؛ لأنه خرج عن النمط المألوف في التصنيف والتأليف، وجاء حقاً بما لم تستطعه الأوائل.
ومصداق قولنا وشاهد حديثنا: كتابه «الشرف الوافي» فهو كتابٌ نسيجُ وحده، ألفه في الفقه والنحو والتاريخ والعروض والقوافي،
وهو الشاعر البليغ وبالشعر اشتهر، وله قصائد تقرأ على أوجه، ومنها تقرأ طولاً وعرضاً، ومنها تقرأ طرداً فتكون مدحاً، وتقرأ عكساً فتكون ذماً!!
ومن إبداعاته هذا المؤلف: الموجز المختصر في المذهب الشافعي الذي سماه إرشاد الغاوي إلى مسالك الحاوي
حيث اختصر فيه كتاب «الحاوي الصغير» للإمام القزويني، فنال الرضا والقبول عند أهل العلم.
ولقد أقبل الطلاب على هذا المختصر، وحفظوه عن ظهر قلب، من شرق وغرب،
لقد بلغ عدد النساء اللواتي حفظنه في عهد الدولة الرسولية في اليمن (5000) امرأة، فضلاً عن الرجال،
وكانت نساء زبيد وتهامة يرددنه حال أعمالهن اليومية، وفي وقت الحصاد، فماذا يردد أبناؤنا وبناتنا ونساؤنا اليوم؟!
لقد تربع هذا المختصر على رأس السلسلة الفقهية عند المتعلمين، فبعد أن يقرأ الطالب متن «المقدمة الحضرمية» وشرحها المنهج القويم
ينتقل إلى قراءة كتاب الإمام النووي رحمه الله تعالى «منهاج الطالبين»،وربما يشرع في قراءة «فتح الوهاب» لشيخ الإسلام زكريا الأنصاري،
فإذا أتمه.. يحط الرحال عند الإرشاد.
ولقد اهتم العلماء بهذا السفر النافع، فتسابقوا لكتابة شروح وحواشٍ عليه، بل ومنهم من نظمه من ألفه إلى يائه،
قال مؤلفه في مقدمته: (وبعد: فهذا مختصر حوى المذهب نطقاً وضمناً، خميصٌ من اللفظ بطينٌ من المعنى).
ودار المنهاج تزف بشراها لقرائها الكرام بهذه الدرة الثمينة، التي تسطع شمسها لأول مرة دون أفول،
وإنها لترجو أن يكون «الارشاد» إرشاداً للعقول، ومن المولى سبحانه القبول.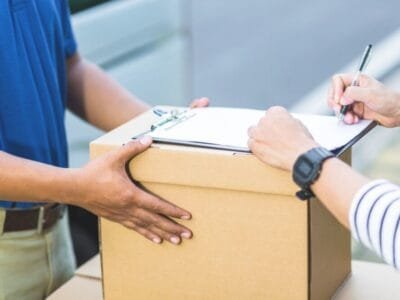 All orders are made to order and shipped from different locations in India. Once an order is placed, we begin to process it the following business day. Orders are packed and shipped Monday-Saturday. Orders placed on the weekend and select holidays are processed on the next business day.
How can I track my shipment?
Tracking information is emailed to you once the order is shipped out. Check in your Inbox/Spam mail. If not received call or whatsapp us +917006207805 | E-Mail: support@rehbarstore.com
Do you ship Books internationally?
Yes, We ship Internationally on Customer request.
How much does shipping cost?
Shipping within the India on Prepaid order Rs.60*.
On International order – Shipping charge will depend on weight.
How long does Rehbar Book Store take to ship?
After you place your order, We take 1-15 Days.
Change of Address
A change of address can only be done BEFORE the order has shipped out. Once the order has shipped, it is the customers responsibility to call shipping company and update the address.
RETURNS & EXCHANGE
Contact us by sending an email to support@rehbarstore.com. Our dedicated customer care executive is ready to assist you, ensuring a seamless experience throughout.
When initiating a product return, kindly adhere to the following guidelines:
– There is no exchange available.
– Items purchased from us are eligible for return, if request is raised within 24hrs of delivery.
– If you receive damaged product, you need to raise return request within 24 hours. Any request after that will not be considered.
The return process commences once we receive and inspect the returned item through our Quality Assurance department. Once QA approval is secured:
– For eligible cases, a complete refund will be processed within 7-15 days.
– Refunds for online payments will be issued to the credit/debit card used. Cash payment refunds will be made via bank transfer.
Please note that we cannot accommodate return or refunds based solely on customer preference. However, if the product is damaged, defective, or substantially differs from the website representation, we extend our apologies. In such instances, we commit to exchanging the product or refunding the amount In shaa Allah. To facilitate this process, it's essential to record the unboxing of the parcel as video evidence.
Case where there is a size issue:
All our sizes are of International Standard, they may be slightly larger what you would generally get from your local market. Therefore, you are required to check our size chart available on each product page.
If you place an order without checking the size chart, we wont be liable for exchange if the sizes are not as per your expectation. In such a case, if you comply to all our return product conditions, you can request an exchange for a cost 150/- per product, whether a return is self shipped or picked up by Rehbar Store courier partner.
In case there is any manufacturing size defect beyond +/- 0.5 inches as per the size chart, then we are liable of issuing a refund/exchange immediately for no extra cost, a proof will be required in this case.
RECENTLY VIEWED PRODUCTS: